E-Verify® is a registered trademark
of the U.S. Department of
Homeland Security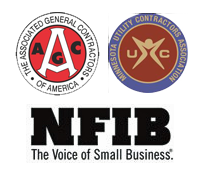 General Highway Heavy Contractor
specializing in Roads and Infrastructure.
---
S.R. Weidema specializes in underground utilities, site grading, and street construction for states, cities, counties, municipalities and private developers.   S.R. Weidema has an excellent track record of providing on-time and on-budget construction services.

We have the project management expertise to deal with projects of every size and complexity. Whether it involves ground water, rock, deep excavations, or other challenges, S.R. Weidema has both the equipment and personnel to handle the job. One of the keys to our success is that along with the best equipment in the industry; we hire, develop, and retain the best skilled personnel in the industry, to continually and successfully complete our projects ahead of schedule and within budget.

We have experienced staff dedicated to following all safety rules and regulations. We are proactive in efforts toward construction education, training, environmental awareness and regulatory compliance.

S.R. Weidema consistently succeeds by utilizing both superior manpower and horsepower to meet our clients demanding schedules. Please give us a call at 763-428-9110 to discuss your next project.